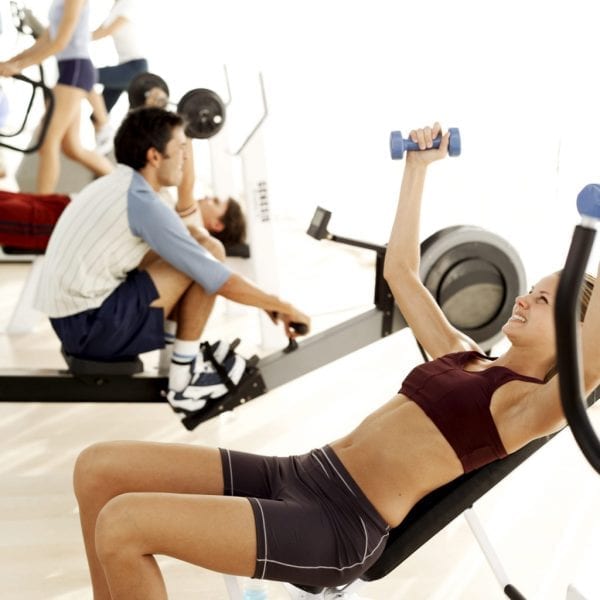 What's the biggest financial issue you face when choosing a gym? Whether you'll actually go. Here's how to find a club you'll love.
Alexandra MacQueen easily lifts 40,000 to 50,000 pounds per week. She calls it her "completely average mid-40s female who loves weight-lifting" routine. Not even a torn knee ligament prevented this working mom from working out. Alexandra is dedicated—which is the attitude most of us started out the new year with. If only that would last. Statistics show that 75% of us who join a gym end up going a grand total of six times. If the average annual gym membership is roughly $500, that equates to $83 per work out.
If you want to do better (and waste a lot less money), try these strategies for getting good value out of your gym in 2011:
Location, location, location
Most of us are enticed into joining a new gym because of a low, advertised price. Don't be. The most important factor when selecting a gym is its proximity to your home or office. Too many people pick a gym that requires too much travel. Even a 20-minute bus or car ride can make or break your motivation—particularly when you add in the realities of weekly schedule constraints and bad driving weather. Fitness professionals strongly recommend joining a gym no more than 10 minutes (walk or drive) from either your home or office.
Bells and whistles
Some facilities are bare bones, offering only an exercise room, while others have showers, towel service, trainers, juice bars and even spa facilities. But added perks cost extra, and these costs aren't always charged on a per-usage basis. Facilities with extras will often charge higher monthly or yearly membership fees, even if you don't use the services. So, be sure that you join a gym with services that you'll actually use.
The fine print
According to a Consumers Report survey, 38% of people who cancelled a membership at a large gym franchise encountered some sort of problem when it came to payments. The usual issue was that the gym kept charging the monthly membership fees to a credit card or chequing account, even after the membership was cancelled. In some recently reported cases, members lost thousands of dollars. To keep that from happening to you, it pays to ask a lot of questions before you hand over your credit card.
Your first question, of course, should be about their cancellation policy. How much notice do you have to give to cancel? Does it have to be in writing? Some health clubs make it easy for you to cancel your membership if you move, while others require you to pay for the full contract term. Also find out whether you can transfer your membership to another person if it doesn't work out. In either situation, find out what processing costs are involved, if any.
Finally, ask how contracts are handled: when does the club raise fees and what are your options if fees do rise? And who owns your contract? Some gyms sell their membership contracts to finance companies—and these companies are then responsible for collecting funds or processing refunds and cancellations. This third-party transfer could impact your ability to get a refund or cancel your membership before the contract expiry date.
Selecting a gym is a very personal decision and different people need different equipment, programs and services. To make sure you find the right fit for your lifestyle, start with the table below and on the next page. It contains an overview of the pros and cons of the three major categories of gyms.
National/regional franchise gyms (examples: Goodlife, Curves, Premier Fitness, Fitness World Centres, Extreme Fitness)




Community Centre gyms (examples: Toronto Parks & Rec, City of Calgary Leisure Centres)




Religious Centres/Independents gyms (examples: YMCA, YWCA, JCC)




Cost


$500 to $1000/ year (enrollment fee+ monthly fees+ admin fees)
Adult membership at "A"-class facility: $529/year Weight room only $122/year
Adult (full): $850/year; Basic: $595/year Subsidized: $400/year
Value

Decent
Good
Great
Crowds

Majority get very crowded during peak times (before 9am and after 5pm)
Not (typically) a problem.
Gets busier during peak times.
Classes

Large selection but classes fill up fast anc an include as many as 40 people
Limited selection and most cater to beginners
*Large selection
Added Features

Personal training (costs extra); child care; some are open 24 hours
Some "high priority" facilities offer free use of gym and classes to any municipality resident
Personal training available (extra cost); child care; many facilities have on-site pool and/or courts
Note

38% who try to cancel their membership run into difficulties
38% who try to cancel their membership run into difficulties
Offers drop-in, weekly, monthly and yearly options. Some facilities may be in a state of disrepair (such as broken showers)
You can easily cancel or suspend your membership; many offer a discounted rate to seniors or low-income members
Best Option

For modern equipment and amenities
For low cost
For good service and value
Specialty gyms (examples: Thrive in North Vancouver, Strengthbox in Toronto, ON, Canadian Fighting Centre in Winnipeg, MB)
University/college gyms (examples: UBC Birdcoop in Vancouver or The Tower at St. Mary's in Halifax, NS )

Athletic clubs (examples: Argonaut Rowing Club in Toronto, ON, Talisman Centre in Calgary, AB, Vancouver Racquet & Fitness Club in Vancouver, BC)

A
Office or condo complex gyms
Cost

Fees vary considerably. Examples: Strengthbox: $1,800/year. Canadian Fighting Center: $1170/year. Thrive Total Fitness: $200 for a 4-week bootcamp.
Fees vary considerably. Examples: Strengthbox: $1,800/year. Canadian Fighting Center: $1170/year. Thrive Total Fitness: $200 for a 4-week bootcamp.
Varies widely and usually a separate fee for gym membership. Examples: Argonaut Rowing Club: $745/year. Talisman Centre: $650/year Vancouver Raquet Club: $335/year for fitness room, or full use of club for $760/year
Varies widely and usually a separate fee for gym membership. Examples: Argonaut Rowing Club: $745/year. Talisman Centre: $650/year Vancouver Raquet Club: $335/year for fitness room, or full use of club for $760/year
Value

Good
Great
Good
Great
Crowds

No
Steadily busy throughout the week, typically quiet on weekends.
No
No
Classes

Limited number of classes, but high quality instruction and class size is small. Also, many offer online registration (no waiting for chips or in lines)
Large selection
Large selection
Limited selection and times
Note

Excellent for individualized attention and for focusing on specific disciplines, such as strength training, flexibility, or core strength
Must provide proof of attendance or employment. Offers a vast range of activities and classes.
The gym is usually a club member perk. Faciliites will often include a restaurant or clubhouse with a strong social component
Exceptionally convenient. Quality of machines varies considerably.
Best Option

For specialized/focused training
For value and selection
To meet people
For value and convenience
Originally published in MoneySense Magazine in February 2011