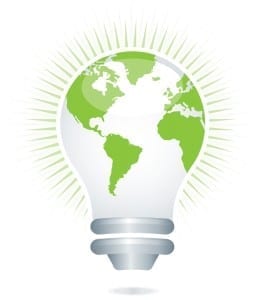 The Google-God, John Doerr, believes in it. So does Arnold (The Governator) Schwarzenegger and Coldplay singer-musician Chris Martin. What could bring this disparate group of business-people, politicians and entertainment icons together?
Green technology.
The term refers to the use of science to help minimize the negative impact of human activity on the natural environment.
For consumers, it is the end product of eco-innovation. Typically, it means products that use fewer toxic elements, are less demanding in terms of energy consumption, and adhere to a life-cycle approach (which takes into consideration the recycling and disposal process as well as the construction of a product).
According to Environment Canada, Canadians discarded more than 67,000 tonnes of computers alone in 2005, putting 1.1 tonnes of mercury, 4.5 tonnes of cadmium and 3,012 tonnes of lead into landfills. So there's a real push on to make electronic products more electronically friendly, as well as keeping them out of the dumps.
Governments are spending millions on green programs but there are also private initiatives such as a $100-million-US fund to invest in "green technology" set up by Doerr, the U.S. venture capitalist who invested in Google Inc. and Amazon.com before they became household names.
The message is out: Clean and green — as in money — go hand in hand as more and more people examine their economic decisions and opt for sustainable alternatives.
"Technology, change and how we deal with it will only occur with consumer demand," explained Douglas MacDonald, a professor at the University of Toronto who specializes in how the environment influences business decisions.
Quote

'Technology, change and how we deal with it will only occur with consumer demand.'
-Prof. Douglas MacDonald
The problem for consumers remains how to distinguish a truly "green" product from something simply marketed as being environmentally friendly.
MacDonald believes the general population would prefer to use products that consume fewer resources and generates less pollution, given the choice. "The difficulty, though, is to know what is really less environmentally damaging."
Put it on the label
For that reason, MacDonald, along with pollution experts and environmentalists, believe a countrywide public labelling system for all consumer and corporate electronic and electric equipment (EEE) is necessary.
At present, the current green labelling systems in use are all privatized efforts, he explained.
"Companies prove they have met industry-chosen criteria and then pay to use the label. This is completely opposite to health and food labelling, which is mandatory and based on set, universal criteria."
MacDonald asserts that the government needs to regulate and standardize the practice, since the goal of "this area of labelling is to allow consumers to make informed choices."
Prof. Miriam Diamond, an expert on urban pollution at the University of Toronto, agrees. She said the behavioural modifications necessary for people to make sustainable consumer choices can only occur through effective governmental regulations.
"It has been noted by numerous economists that there is a strong advantage to the regulatory approach," explained Diamond.
"It pushes industry to innovate, and there is a strong relationship between countries with strong environmental regulations and countries with high technological advantage and prosperity."
Follow the EU's lead
Diamond would like to see Canada-wide legislation — similar to measures taken by the European Union — that limits the toxins used in the manufacture of electronic and electric equipment, and forces corporations to be accountable for all e-waste.
Since 2002, the EU has passed specific directives that require manufacturers to dispose of consumers' electronic equipment free of charge and bar the export of hazardous materials to developing countries for disposal.
As of July 2006, electronic and electric producers were also banned from using six hazardous substances that, up until then, were widely used by EEE manufacturers, including four heavy metals — lead, cadmium, mercury and hexavalent chromium — and two groups of brominated flame retardants, polybrominated biphenyls (PBB) and polybrominated diphenyl ethers (PBDE).
The rationale: these substances were considered to pose a direct health risk to workers, and can be released into the environment when incinerated or buried in landfills.
North America, however, has taken a different approach.
The U.S. and Canadian governments impose minimum standards, relying on the industry to self-regulate.
And in the absence of stricter legislation, Diamond concedes that labelling goods so that consumers can decide whether to buy them is a good stop-gap method that can be implemented rather quickly.
Canada pioneered eco-labels, then lapsed
Although eco-labelling isn't widespread here today, Canada was actually a pioneer in the field. The first eco-label, launched in 1988, was established by Environment Canada; there are now more than three dozen such programs worldwide.
Canada's Environmental Choice Program was also one of the founding members of the Global Eco-labelling Network, a non-profit association of third-party, environmental performance labelling and certification programs.
The global network was created in 1994 to help promote the labelling system and share best practices. These eco-label systems are described by Strategis Canada "as a market instrument designed to provide manufacturers with an incentive to produce environmentally friendly products and services."
The major incentive is that the labels provides differentiation between a company and its competitors by evaluating the product with environmental criteria.
They include:
The total impact of a product across its life cycle.
The impact associated with raw material acquisition, manufacturing, transportation and distribution.
The impact of the use and disposal of the product.
Any secondary impacts that can be assessed and measured.
Low use of eco-labels by companies
According to Jay Illingworth, the vice-president of the industry-initiated Electronic Stewardship Program of Canada (ESPC), technology manufacturers are interested "in harmonizing" with eco-label initiatives.
He points out the numerous reports and investigations the ESPC has done in order to help develop a standardized method of environmentally recycling electronic waste (e-waste).
"Years ago, we took an overview of what our companies were doing," Illingworth said. "We examined not just the products, but the back-end. We did this because of a desire to redesign our processes for environmental and energy efficiency."
However, despite the numerous budget announcements and industry reports, Strategis Canada says the "use of eco-labels in Canada is low."
And according to Statistics Canada, only 81 of 1,500 companies used the voluntary labels in 1998 — 10 years after the introduction of Canada's first voluntary eco-label system.
Four years later, in 2002, the number of corporations that voluntarily complied and used the eco-label rose to a meagre 107, according to the Statistics Canada's Environmental Protection Expenditures in the Business Sector report.
Voluntary eco-labels not enough, experts warn
For academics like MacDonald and Diamond, the reliance on voluntary eco-labelling is insufficient.
"Purchasing power is important, and consumer demand is powerful, but it is not enough," Diamond said. "In the end we, as a nation, need to advance our prosperity and technological advantage through legislation."
MacDonald agreed. "The market gets confused over the notion of what is environmental. All kinds of claims are made by manufacturers and all kinds of terms are used to describe products as environmentally friendly. All of these unregulated terms and descriptions cloud the issue."
He wants to see a system that is universal and that allows consumers to make decisions about their purchases by examining a product and a company's commitment to the environment — a commitment that is exemplified through criteria clearly set out on government created, monitored and implemented eco-labels.
A similar system: food labels
Four years ago, Health Canada launched the new food labelling system as a "public health initiative."
"Public education … will help Canadians understand and use the new information to make informed choices, " Karen Dodds, the director general of Health Canada's Food Directorate, said at the time.
She estimated that the new labels would save Canada $5 billion over the following two decades, due to more informed choices that would translate into increased productivity and lower health-care costs.
MacDonald said people can learn from the Health Canada labelling experience.
"Ultimately the required, fundamental changes depend on the choices made by individual consumers — what they buy and use," MacDonald said.
"If we are really serious, as a society, on changing our behaviour for the benefit of the environment, then this type of eco-labelling must be administered by our government across the board and it must be clearly distinguished from green marketing."
Originally published on CBC.ca on March 26, 2007
Want greener gadgetry?

Write your local, provincial and federal legislator, asking for a universal, state-regulated eco-labelling system in place for all consumer products.
Don't throw discarded electronics in the garbage: take them to recycling facilities if they exist in your province or territory. As of March 2007, Alberta and Saskatchewan had e-waste recycling and Nova Scotia plans to introduce one in February 2008.
Lobby your province or municipality to introduce an electronics recycling program if it doesn't have one.
Before purchasing any electronic or electric equipment, check out how the leading mobile and PC manufacturers rank environmentally in Greenpeace's Guide to Green Electronics.
How Greenpeace ranks the computer makers
Greenpeace ranks leading mobile and PC manufacturers, evaluating their efforts to eliminate harmful chemicals and take responsibility for their products once they're discarded. Here is the latest ranking on a scale of 1 (least green) to 10 (most green). It was published in December 2006 and compares the rankings with previous scores in a September report:
7.3
Nokia – Good on all criteria, but needs clear timeline for PVC phase out for all applications.
7
Dell-Loses points for not having models free of the worst chemicals. Strong support for takeback.
6
Fujitsu-Siemens- High score on chemical policy, some models free of worst chemicals. But should improve takeback and recycling.
6
Motorola- Big improvement on all criteria, info on cleaner products, still to provide clear timelines for phase out of worst chemicals.
5.7
Sony Ericsson- Some models without the worst chemicals, provides timelines for chemicals phase out, but needs better chemicals policies and takeback reporting.
5.7
HP-Needs to do better on the chemicals criteria especially phase out timelines and greener products. High scores on takeback.
5.3
Acer- Improved chemical policies but no models free of the worst chemicals. Needs to improve on takeback.
5.3
Lenovo – Progress on most criteria but loses points for not having products free of the worst chemicals, on takeback and recycling.
5
Sony- Some models without the worst chemicals, loses point for inconsistent takeback policies.
4.3
Panasonic-Improved score but no commitment to eliminate brominated flame retardants, and poor on takeback.
4
LGE-Improved chemicals policies, but no cleaner products on the market, loses points for inconsistent takeback policies.
4
Samsung-Scores points for timelines for toxic phase out but poor on waste criteria. Loses points for inconsistent takeback policies.
3.7
Toshiba-Some models without the worst chemicals and reports on recycling, but no timelines for chemical phase out and poor on other waste criteria.
2.7
Apple-Low scores on almost all criteria and no progress.
Source and complete evaluations: Greenpeace's Green Electronics Guide

Hazardous waste found in common electronic products:

Lead in cathode ray tube displays and electronics solder.
Arsenic in older cathode ray tubes.
Antimony trioxide as flame retardant.
Polybrominated flame retardants in plastic casings, cables and circuit boards.
Selenium in circuit boards as power supply rectifier.
Cadmium in circuit boards and semiconductors.
Chromium in steel as corrosion protection.
Cobalt in steel for structure and magnetic properties.
Mercury in switches and housings.